PRETORIA — The Việt Nam Buddhist Sangha (VBS) Central Committee recently held a grand ceremony in Maputo, Mozambique, to make public the Việt Nam Buddhist Association (VBA) and launch the plan to establish a Vietnamese Buddhist Centre in Mozambique, also the first of its kind in Africa.
Addressing the event, Most Venerable Thích Đức Thiện, General Secretary of the VBS Executive Council, spoke highly of Mozambique's licensing of the VBA and expressed his hope that the association would contribute to strengthening solidarity among the Vietnamese community in the country, and consolidating friendship between the two nations.
He said the VBS would build a Vietnamese Cultural Centre covering more than four hectares in Mozambique, with a pagoda in the centre.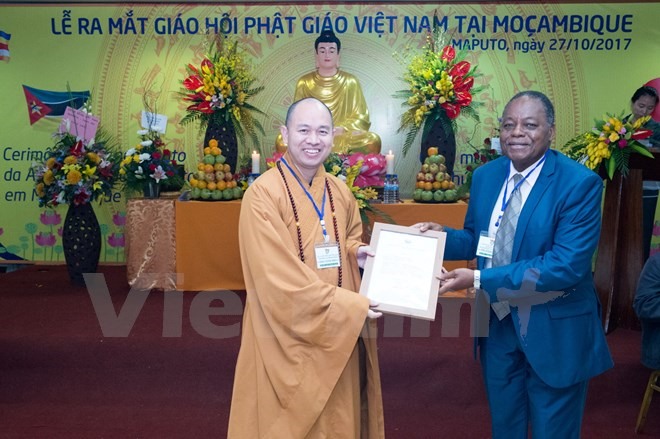 Arao Litsuri, Director General of the General Administration of Religious Affairs, Mozambique Government Representative, presented the decision on the establishment of the Buddhist Association in Mozambique to the Representative of the Buddhist Association of Việt Nam.
Arao Litsuri, a representative from the Mozambican Government, expressed his hope that Vietnamese Buddhist followers would introduce Vietnamese culture to local people and contribute to charity activities and poverty reduction in the country.
On this occasion, the VBS presented 300 schoolbags to poor students in Mozambique's mountainous province of Tete via the Mozambican Ministry of Education and Culture.
VNS