On Nguyen Son Street in Ha Noi's Long Bien District, there is a small alley which is home to dozens of mini-shops standing close to each other.
In each store, there is a variety of goods, including cosmetics, food, beverages, clothes, tooth brushes, cigarettes, glasses, knives, chopsticks and cooking pans.
All of them are foreign branded and hand carried to Viet Nam on airlines. For this reason, Alley No 158 is infamously called the "paradise of hand carried goods (HCGs)" in Ha Noi.
The goods sold by residents are not low cost compared to Vietnamese products, however, they are cheaper than legally imported products.
Being sold at only slightly lower cost than market prices, hand-carried perfumes, cigarettes and wine are the favourite products because legally imported goods often bear high taxes and also, there are many fakes.
Nearly 20 years ago, mini shops started to appear on this street, also home to a lot of airline agencies. It has another nickname – "airline street".
At that time, life for Hanoians was getting better. People often asked relatives working for airlines to carry foreign products back home to sell them for local consumption.
The products are purchased at duty-free stores at airports. Regulations allow each airline staff member to carry about 30kg of luggage and a small suitcase. If airline staff take full advantage of the regulation, each flight attendant or pilot is able to carry up to 40-50kg of goods per flight without bearing taxes. Airline staff can carry bigger amounts of goods if they ask for help from colleagues or corrupt custom officers.
The sellers can earn greater profits through promotions and sales campaigns. If they buy a large number of goods, they will enjoy a discount of 20-30 per cent, presents and free shipment. The profits are therefore multiplied many times.
Selling HCGs is also performed by officers or young mothers, some of whom earn a daily profit of up to VND500 million (US$22,200) by selling goods worth VND2 billion per day during Lunar New Year.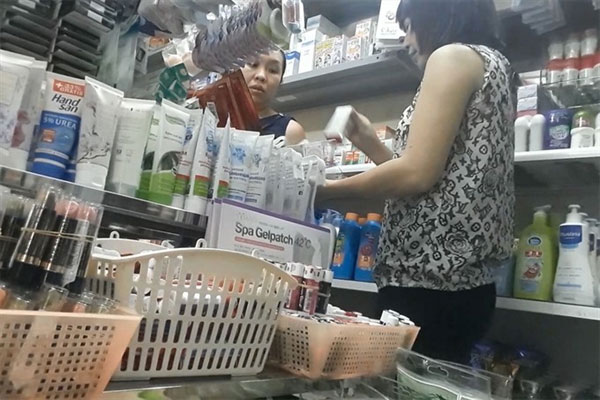 Tax free: A variety of hand-carried goods are sold on Nguyen Son Street, Ha Noi. — Photo laodong.vn
A store owner named Van (not her real name) told the Lao Dong (Labourers) newspaper that the products were mostly from Japan, South Korea, Thailand, Hongkong, Britain, France, Germany, Italy and the United States. Profits are divided based on product value. The higher value, the higher the profits.
"For example, an airline worker receives a profit of VND200,000-300,000 (US$8-13) for a perfume bottle worth VND2 million ($87). Profits are counted based on product weight if the product values are low," she said.
However, in recent times, retail customers visiting the shops are on the decline due to the popularity of online shopping.
"Hand carried goods are now mainly sold in bulk for localities. A bill of products delivered to a province can be worth VND1 billion ($43,500)," another store owner said.
Disguised as customers who want to buy a large quantity of goods, Lao Dong reporters were introduced to one of the biggest shops on the street. The shop has more than 1,000 to 2,000 product codes and is famous for selling products with no big difference between retail and wholesale prices.
Staff at the store said the products were all hand carried from overseas. However, most of them, including cigarettes to wine, did not pay tax bills due to evasion.
"Our products are best sellers because they are all authentic," a shopkeeper told reporters.
Another staff said "Some hand-carried goods have invoices, others do not, but the bills are not important. Customers who buy our products all have trust"
Other store owners also fail to show invoices, but all of them confirm the quality of the goods. Customers can order any kind of goods in any quantity. It takes at most one week, even only two or three days to send ordered goods to Viet Nam.
When asked if they are aware of penalties for tax evasion, a shop assistant said: "We must have a "relationship" (which means relationship with custom agencies)"
Being asked how such a large quantity of goods was hand carried on airlines, an old cashier said goods were also carried through other ways.
A shop worker in one of the biggest stores said the goods were carried in massive quantities in big containers by sea. Shipping fees were paid by shop owners based on the weight of their goods.
The goods are delivered to Hai Phong port in northern Hai Phong City and have their taxes reduced at most thanks to a "relationship" between shop owners and customs agencies.
According to store owners, they often declare low-cost and simple goods to avoid customs check. Products related to human health such as cosmetics, functional food, medicine skip the watch of authorised agencies. The products are then sold at low cost because they do not have to bear taxes and checking fees, bringing huge profits to local sellers.
However, not all products are authentic. A woman who has more than 10-years experience in selling hand-carried goods said that sellers mix authentic products of developed countries with Chinese low-quality goods to increase the quantity.
After receiving goods from other countries, shop owners will send them to China where factories mix the product content. One week later, the goods claimed to be authentic by many sellers are delivered back to Viet Nam for consumption, she said.
Hand carried goods are now available for online sales. Typing "HCGs" on Google search, reporters could find thousands of results from Viet Nam. The prices of these products sold on websites and Facebook pages also vary greatly.
Due to the love of foreign products, many customers are still lured by both online and tax-free stores.
Quach Thanh Luc, director of Ha Noi Tinh Hoa Law Company, told the Lao Dong newspaper that airline crew were able to carry tax-free goods once every 90 days.
"The regulation is not strictly implemented. If we want to control hand-carried goods, we must control from the root. We must answer the questions why overseas goods easily skip the supervision of authorities. The popularity of the goods, both authentic and fake, shows loopholes in the management."
According to Ha Noi's Market Surveillance, in the first nine months of this year, the unit inspected 19 cases of hand-carried goods, mostly cosmetics of unknown origin, imposed total fines of more than VND61 million ($2,650) and confiscated goods worth nearly VND145 million ($6,300).
The team said that illegal sales and transport of overseas products with unclear quality and without tags was complicated, adding that there were a lot of tricks. A small number of cosmetics are manufactured illegally in Viet Nam. Others are made abroad and then smuggled through different channels, mostly in small volumes, to Ha Noi and consumed in other provinces.
Nguyen Thanh Phong, head of Food Safety Department under the Ministry of Health, advised customers not to trust tax-free products because they "might carry potential risks".
Source: VNS